Our soft washing and pressure washing services will quickly remove stubborn grime.
Does your driveway, garage floor, or sidewalk have an unsightly stain that you can't seem to get rid of with store-bought cleaning products? It might be time to hire a professional for pressure washing services.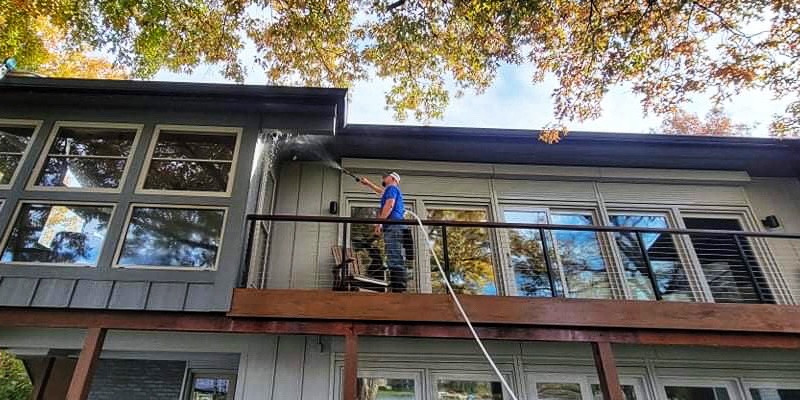 Pressure washing is a method of removing algae, dirt, and grime from tough surfaces, such as concrete or brick, using powerful jets of water. The strength of pressure washing can quickly remove stubborn stains from your exterior surfaces, but it shouldn't be used on more fragile materials. For example, pressure washing may dent and discolor your home's siding or damage the wood and colored surfaces on your deck. If you're not sure if pressure washing is safe to use on a certain surface, soft washing is an excellent alternative that uses gentler methods to remove grime without resorting to strong water pressure.
Although some homeowners or business owners may choose to rent a pressure washer in an effort to save money on cleaning their building's exterior, we wouldn't recommend this DIY approach. If operated incorrectly, a pressure washer can cause property damage or even bodily injury to the user. This is why our team at ClearView Window Cleaning and SoftWash is trained to handle a pressure washing system safely and effectively to greatly reduce the risk of any accidents.

To find out if pressure washing is the right choice for your home or business in Lawrence, Kansas, please connect with one of our friendly specialists today! We can provide you with a free estimate and recommend the best exterior cleaning solution for your needs.
---
At ClearView Window Cleaning and SoftWash, we offer pressure washing and soft washing services in Topeka, Lawrence, Wamego, Saint Marys, Auburn, Carbondale, Holton, Lyndon, Osage City, Oskaloosa, Overbrook, Rossville, Silver Lake, and Valley Falls, Kansas.
Similar Services We Offer: