Is your home looking dirty and drab? Let us refresh your exterior space!
At ClearView Window Cleaning and SoftWash, it is our goal to help our clients make their outdoor areas clean, safe, and more enjoyable for all with effective preventative maintenance in the form of cleaning. We offer different exterior cleaning options for all of your needs. Many people think the best way to keep your home in Lawrence, Kansas looking great and well-maintained is with house pressure washing, but we know from experience that pressure washing can damage delicate materials such as siding, brick and mortar, stone, and roofing on a house. While we offer pressure washing for surfaces such as concrete when needed, we always recommend softwashing for homes.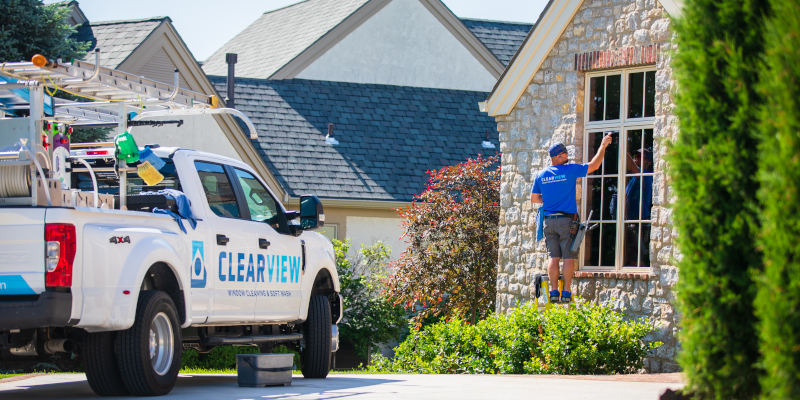 Our team performs professional softwashing instead of house pressure washing to rinse away dirt and debris from your home with a gentle water after applying specialized cleaning solutions to leave your surfaces looking clean and refreshed. Regular exterior home cleaning will not only boost the curb appeal of your home and keep it looking great, it can also extend the life of your exterior building materials, increase your property value, reduce repairs needed due to dirt buildup, and keep your home healthier for your family. House softwashing is also a great option before undergoing any exterior renovations such as painting.
Our team of skilled technicians offer high-quality work for a great value and will always handle your home and property with care. We are a family-focused business, and we love serving our community with exceptional customer service in addition to our skilled, impeccable work. We strive to make your outdoor areas cleaner to feel more safe and more enjoyable for your family and guests.

If you would like more information about softwashing as a preferred alternative to house pressure washing services or to schedule with our team, give us a call. By utilizing this simple form of preventative maintenance, you could be adding years of life to your home. Reach out to us today!
---
At ClearView Window Cleaning and SoftWash, we offer a safer alternative to house pressure washing in Topeka, Lawrence, Wamego, Saint Marys, Auburn, Carbondale, Holton, Lyndon, Osage City, Oskaloosa, Overbrook, Rossville, Silver Lake, and Valley Falls, Kansas.