Our window cleaning services can give you a clear and spotless view.
When you want to boost your home's curb appeal, every aspect of your home's exterior matters. Even if your lawn looks impeccable, your front porch looks inviting, and your gardens are in full bloom, dirty windows can detract from an otherwise beautiful exterior.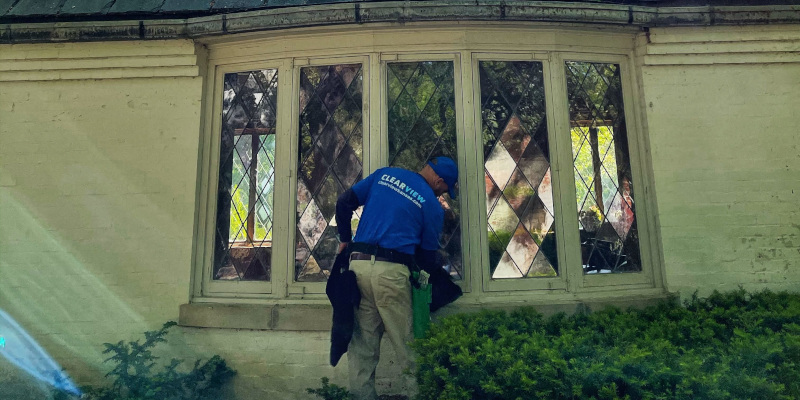 However, window cleaning can be a real challenge for many homeowners. Homes with multiple levels can have high windows that can only be accessed with a ladder, which can be a potentially dangerous task. Furthermore, exterior windows can accumulate a lot more dirt and contaminants than indoor-facing windows, so standard store-bought cleaning solutions might not be strong enough to remove stubborn buildup. Fortunately, homeowners who need window cleaning services in the Topeka, Kansas area can rely on our skilled team!
Here at ClearView Window Cleaning and SoftWash, we've been offering a wide array of cleaning solutions for the area since 1988. We're proud to provide any exterior cleaning service you may require, ranging from window cleaning to patio washing to gutter cleaning. If you can't see clearly out of your windows anymore, contact our team to schedule a window cleaning appointment today.
When your window cleaning specialist arrives at your home, they'll be able to select the best cleaning solution and process for your specific needs. You can remain safely on the ground while our trained technicians safely and efficiently wash away all of the buildup and dirt from your windows.
If you're a business owner, keep in mind that we offer our window cleaning services for commercial buildings as well. Simply call us today to learn how we can help!
---
At ClearView Window Cleaning and SoftWash, we offer window cleaning services in Topeka, Lawrence, Wamego, Saint Marys, Auburn, Carbondale, Holton, Lyndon, Osage City, Oskaloosa, Overbrook, Rossville, Silver Lake, and Valley Falls, Kansas.