A clean building makes a lasting impact on your business.
As a leading provider of commercial pressure washing services, we deliver exceptional results that enhance the appearance and functionality of commercial properties in Lawrence, Kansas. For most exterior surfaces, our soft washing method is the preferred approach.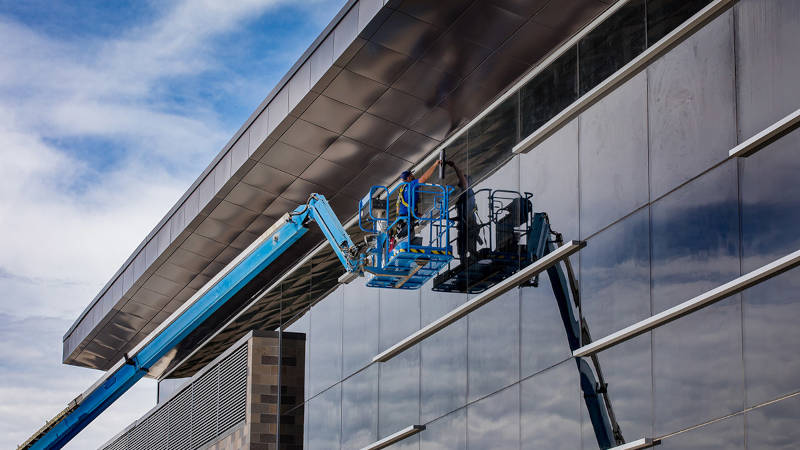 Soft washing kills mold, mildew, and algae spores, providing a longer-lasting clean than traditional pressure washing. This means surfaces will stay cleaner for extended periods, reducing the need for frequent cleanings and saving you time and money. However, we sometimes use pressure washing for cleaning concrete surfaces at commercial properties. Our experienced technicians can determine when this method is the most appropriate one for the job.
We understand the importance of maintaining a clean and professional appearance for commercial properties. When customers see a well-maintained building, it enhances their image of your business. Attract more customers and create a healthier environment for employees and visitors with commercial pressure washing. Our services are designed to help you achieve your goals.
Our comprehensive range of services includes cleaning building exteriors, sidewalks, parking lots, and more. We use environmentally friendly cleaning solutions to remove dirt, grime, and stains without causing harm to your property or the surrounding environment.
For more delicate surfaces, we offer soft washing, ensuring that every aspect of your commercial property is expertly cared for. We aim to provide a complete exterior cleaning solution for businesses, focusing on quality, professionalism, and safety.

Choose ClearView Window Cleaning and SoftWash for your commercial pressure washing needs and experience the difference our dedication to excellence makes. Contact us today to schedule a consultation and discover how we can help you maintain a pristine commercial property.
---
At ClearView Window Cleaning and SoftWash, we offer commercial pressure washing and soft washing services in Topeka, Lawrence, Wamego, Saint Marys, Auburn, Carbondale, Holton, Lyndon, Osage City, Oskaloosa, Overbrook, Rossville, Silver Lake, and Valley Falls, Kansas.