Make your outdoor area a more inviting place to spend your quality time.
Do you regularly use your outdoor space and patio? Would you use it more if it were cleaner and thus more appealing and inviting? If so, patio washing is an excellent option for you. The team at ClearView Window Cleaning and SoftWash specializes in cleaning outdoor areas, so we can help you enjoy your space and feel safe in your environment.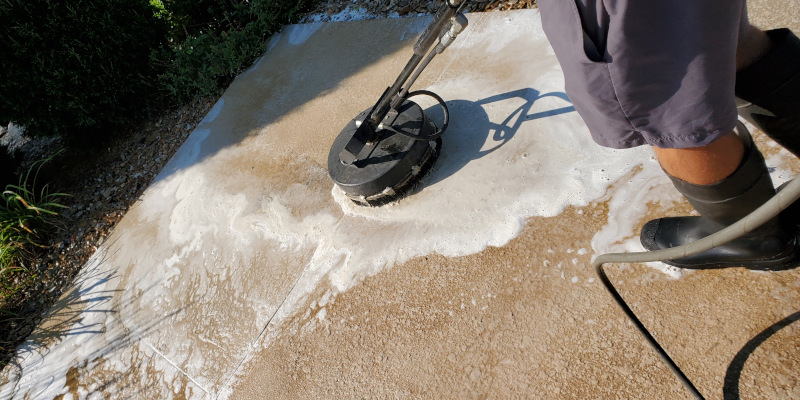 We have different options for patio washing including softwashing for most surfaces, and pressure washing for concrete surfaces, if needed. Each of these options is great for outdoor areas, and both are environmentally friendly. Our superior softwashing technique uses a biodegradable cleaning solution that is safe for children, pets, and vegetation. Softwashing will emulsify and eliminate dirt, grime, mold, algae, and pest webbing/bedding and leave behind a wonderfully clean and sanitized surface, all while using less water than traditional cleaning methods.
Patio washing will not only make your outdoor space more inviting and usable, but it will also boost the curb appeal of your home, increase your property value, and make your patio area safer for your family. It is our goal to handle your home and property with the same care we would our own. We are a family-focused business and love serving the Lawrence, Kansas community as we have for over 35 years and counting! We vet all of our employees, and they each receive in-depth training to maintain our high-quality standards.
If patio washing is on your to-do list, reach out to us and let us take care of your home. We have the skills and equipment needed to freshen up your space, so you can enjoy it with no sweat off your back. Give us a call today with any questions and to schedule with our skilled, friendly professionals!
---
At ClearView Window Cleaning and SoftWash, we offer patio washing services in Topeka, Lawrence, Wamego, Saint Marys, Auburn, Carbondale, Holton, Lyndon, Osage City, Oskaloosa, Overbrook, Rossville, Silver Lake, and Valley Falls, Kansas.