Schedule gutter cleaning services to prevent damage to your home.
Gutter cleaning is one of those household chores that often goes overlooked until there's a noticeable problem. Some homeowners neglect to clean out their gutters until they notice that water isn't draining properly or a clogged gutter is causing damage to their roof. Others avoid gutter cleaning because they're worried about the height of their roof or experiencing an accidental fall. If you're one of the many homeowners in the Lawrence, Kansas area who does not clean their gutters regularly, our team can help!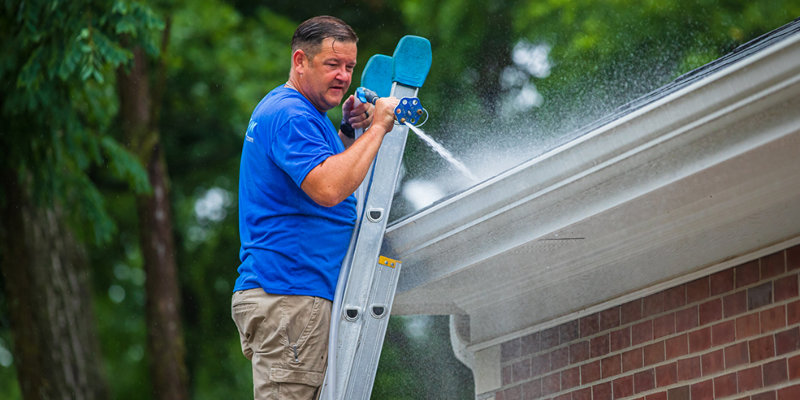 Here at ClearView Window Cleaning and SoftWash, we can provide you with superior gutter cleaning services to help ensure that rainwater drains away from your home. Our team has been offering a wide range of exterior cleaning services to the region since 1988, so you can trust us to do a thorough job in a safe and efficient manner.
When you contact us for gutter cleaning, we'll come out to your home at a time that works best for you. We'll clear out and haul away any debris from your gutters. We will make sure all downspouts are properly draining away from the foundation of your home. Plus, if you have any water damage on your siding or roof, we offer soft washing services to gently clean off any unsightly stains without harming the finish of your home.
Next time you need gutter cleaning services, don't put yourself at risk by attempting to clean them on your own. Instead, call our team for prompt, friendly service that you can rely on. Reach out to us today to schedule your appointment!
---
At ClearView Window Cleaning and SoftWash, we offer gutter cleaning services in Topeka, Lawrence, Wamego, Saint Marys, Auburn, Carbondale, Holton, Lyndon, Osage City, Oskaloosa, Overbrook, Rossville, Silver Lake, and Valley Falls, Kansas.