Choose a soft wash company with your best interests in mind when you choose to hire us.
The exterior of your home is built to withstand and protect against the elements, but it is still made up of fairly delicate materials. The most common choice for cleaning the exterior of the home used to be pressure washing, but we have since learned that high amounts of pressure can often be damaging to those delicate materials on the exterior surfaces, especially when used by untrained hands. That's why it's better to invest in a soft wash company like us at ClearView Window Cleaning and SoftWash for your Lawrence, Kansas home.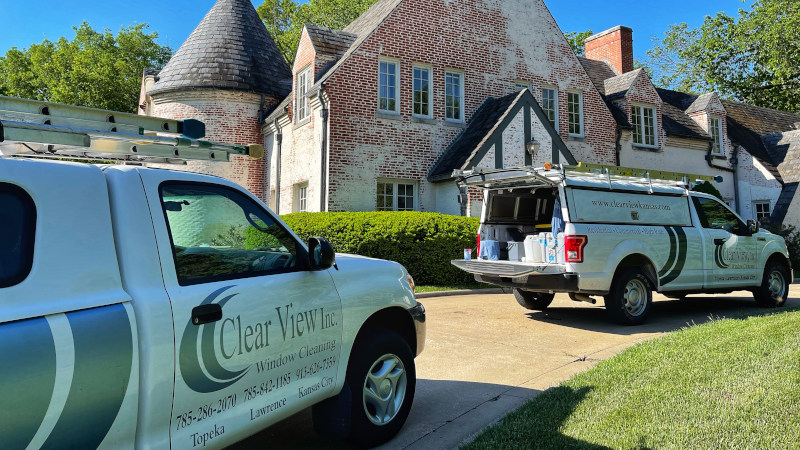 When you hire us as your soft wash company, you can trust that we will always have your best interests in mind. We will only use the safest cleaning techniques for your home and treat it as if it were our own, with all the great care that it deserves. We have over 35 years of experience, so we know all the best methods and techniques to clean the exterior of your home without causing any damage.
We take our work very seriously as your soft wash company. For most exterior surfaces, we use soft washing to clean the surface. This involves the use of gentle water pressure compared to pressure washing mixed with a cleaning solution to effectively remove contaminants like dirt, grime, mildew, and algae. This also allows us to effectively remove even the toughest dirt and stains in a way that is safer for surfaces like windows, roofs, siding, etc.
Choose a soft wash company with your best interest in mind when you use us for your exterior house cleaning needs. Give us a call today to schedule our soft washing services.
---
At ClearView Window Cleaning and SoftWash, our soft wash company proudly serves Topeka, Lawrence, Wamego, Saint Marys, Auburn, Carbondale, Holton, Lyndon, Osage City, Oskaloosa, Overbrook, Rossville, Silver Lake, and Valley Falls, Kansas.