Rejuvenate your property and create a lasting impression.
A positive customer experience begins when the person arrives at your home or business. A clean and well-maintained building exterior creates a lasting impression, for better or worse. Our power washing services eliminate stubborn dirt, grime, and stains from various surfaces, including driveways, sidewalks, parking lots, building exteriors, etc. Whether you're a homeowner looking to enhance curb appeal or a business owner seeking to project a professional image, our power washing services can attain those goals.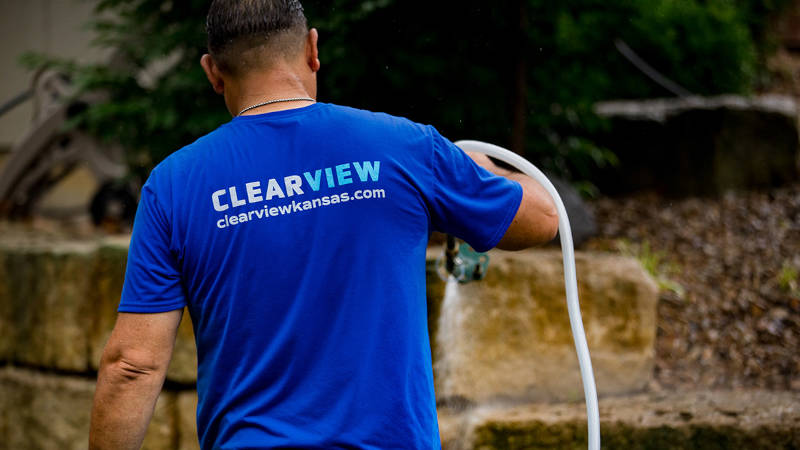 We take pride in employing a team of skilled technicians with the expertise to handle even the toughest cleaning challenges. Utilizing cutting-edge equipment and eco-friendly cleaning solutions, we provide thorough and efficient power washing services without compromising the safety of your property or the environment. Our team is committed to delivering exceptional results while ensuring the integrity of your surfaces remains intact.
While power washing is ideal for heavy-duty cleaning tasks, we also recognize the importance of using the appropriate method for different surfaces. That's why we offer additional cleaning solutions, such as soft washing, for delicate materials that require a gentler approach. Our comprehensive range of services guarantees that every aspect of your property is expertly maintained and cared for.

At ClearView Window Cleaning and SoftWash, we make customer satisfaction our top priority. We work closely with our Topeka, Kansas clients to address any questions or concerns. Discover the difference our commitment to excellence makes. Restore your property's beauty and vibrancy, leaving an impression on visitors and passersby alike. Contact us today to schedule a consultation. Let us transform your property and bring your exterior surfaces back to life.
---
At ClearView Window Cleaning and SoftWash, we offer power washing and soft washing services in Topeka, Lawrence, Wamego, Saint Marys, Auburn, Carbondale, Holton, Lyndon, Osage City, Oskaloosa, Overbrook, Rossville, Silver Lake, and Valley Falls, Kansas.