Experience the transformative power of professional driveway washing.
Boost your property's curb appeal and value with professional driveway washing services. A spotless driveway elevates your home's appearance and helps prevent the buildup of mold, algae, and other contaminants that can damage your driveway over time.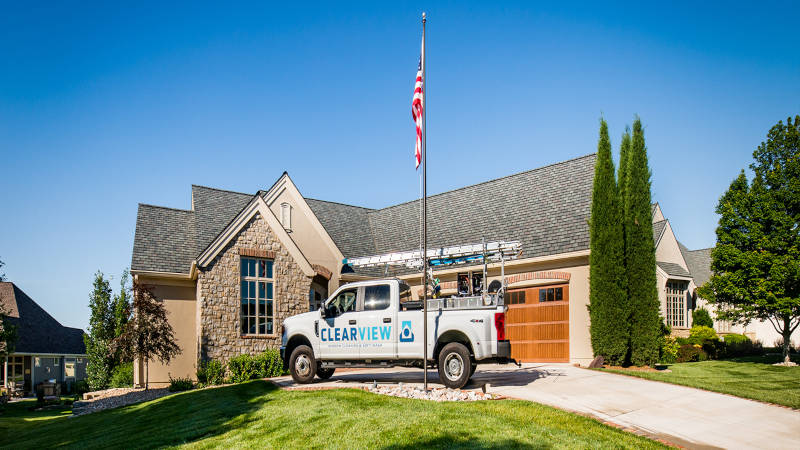 For thorough driveway washing, we may use either soft washing or power washing to eliminate dirt, grime, and stubborn stains from concrete surfaces. At ClearView Window Cleaning and SoftWash, we have a team of experienced technicians who know which method to use, ensuring optimal results without harming your Topeka, Kansas property.
You may wonder why you can't just grab the garden hose and clean the driveway yourself. Hosing down your driveway or relying on heavy rain may seem like a simple and cost-effective solution for cleaning, but there are several reasons why these methods are not as effective or beneficial as professional cleaning services. The biggest one is you can't eliminate deeply embedded grime, stains, and contaminants with a hose. Your driveway will still look dirty.
We guarantee a clean and safe driveway for your family and the surrounding environment by utilizing environmentally friendly cleaning solutions and innovative equipment. In addition to driveway washing, we offer soft washing for delicate surfaces such as roofs, siding, and fences. Our comprehensive range of services caters to every aspect of your property, ensuring expert maintenance and care.
Choose us for all your driveway cleaning needs and experience the exceptional results our commitment to excellence delivers. Contact us today to schedule an appointment and discover how we can help you maintain a clean, stunning, and well-kept property.
---
At ClearView Window Cleaning and SoftWash, we offer driveway washing services in Topeka, Lawrence, Wamego, Saint Marys, Auburn, Carbondale, Holton, Lyndon, Osage City, Oskaloosa, Overbrook, Rossville, Silver Lake, and Valley Falls, Kansas.