We can help your concrete surfaces look better and last longer.
Concrete is a strong and versatile building material for everything from pathways and driveways to patios. Over time, dirt, grime, mold, mildew, and other substances can build up on concrete surfaces, affecting their appearance and structure. This is where concrete washing comes in. With over 35 years of experience in the industry, our team at ClearView Window Cleaning and SoftWash can assist with this task.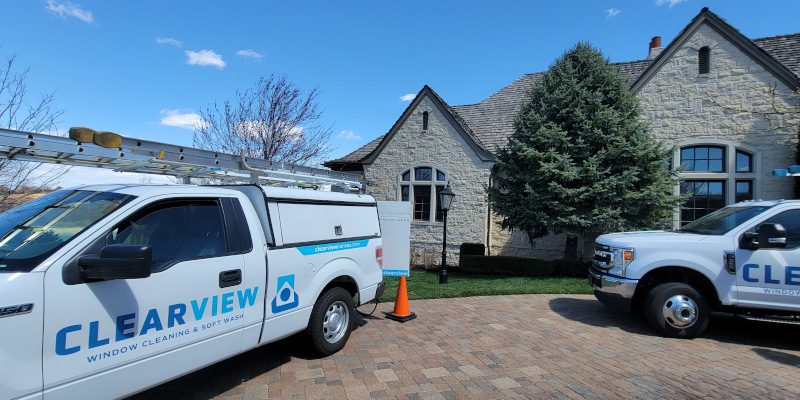 First impressions are essential, and you want to ensure the outside of your home makes a good one. A clean, well-kept driveway, walkway, or entryway makes guests feel welcome. Our team can eliminate dirt, spots, and discoloration, helping your concrete look as good as new.
Concrete washing also helps your space be safer for you and your guests. When dirty or covered in algae, concrete can be dangerous to walk on. Once your concrete is free of contaminants, it lowers the chance that someone will slip and fall. With consistent concrete washing, you eliminate this danger and help your concrete last longer.
Your home is an investment that needs to be maintained. Proper maintenance includes ensuring your concrete surfaces look their best. Prospective buyers are more likely to be interested in a clean and well-kept property, so investing in concrete washing is a good idea.
Concrete washing is not only a great way to revive your exterior space, but it's also environmentally friendly since our team uses biodegradable cleaning solutions. In addition, soft washing uses less water than other cleaning services.
If the concrete surfaces at your Topeka, Kansas home look worn, contact our team today to see how we can help. We can assess your space and answer questions you may have to ensure you get the outcome you hope for.
---
At ClearView Window Cleaning and SoftWash, we offer concrete washing services in Topeka, Lawrence, Wamego, Saint Marys, Auburn, Carbondale, Holton, Lyndon, Osage City, Oskaloosa, Overbrook, Rossville, Silver Lake, and Valley Falls, Kansas.