Clean solar panels soak up more sun, and that means better efficiency.
Solar panels work hard day after day to soak up the sun and turn it into clean energy for your Lawrence, Kansas home or business. In return, you get the benefits of those lower electricity bills. But just like everything else, those solar panels need a little upkeep so they can keep doing their job well.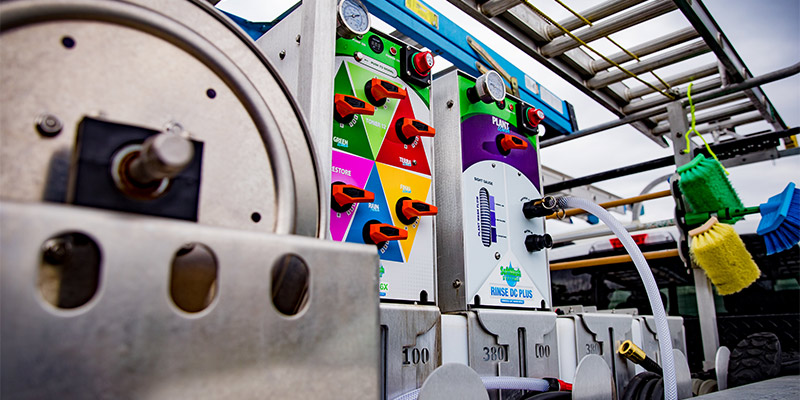 At ClearView Window Cleaning and SoftWash, we want to be your local pros for keeping things clean and shiny. And yes, that includes solar panels. You see, over time, your panels can get a bit grubby. Dust, bird droppings, leaves – all that stuff can build up and block the sunlight. And when that happens, your panels can't do their job as well. Think of it this way: if you were trying to sunbathe with a blanket over you, you wouldn't get much of a tan, right? It's the same with your solar panels. A clean panel can soak up more sun, and that means more energy and better efficiency. Generally, we find that most folks need solar panel cleaning about twice a year.
While you could certainly try DIY solar panel cleaning, the panel components are a bit delicate, and they need a gentle touch. That's why we use a method called soft washing. It's tough on grime but easy on your panels, so you don't have to worry about any damage. Periodic solar panel cleaning helps your solar panels work better and last longer, and that's good news for your energy bills and the planet. So, if you think your panels could use a clean, give us a call. We'd love to help you get the most out of your solar investment.
---
At ClearView Window Cleaning and SoftWash, we offer solar panel cleaning services in Topeka, Lawrence, Wamego, Saint Marys, Auburn, Carbondale, Holton, Lyndon, Osage City, Oskaloosa, Overbrook, Rossville, Silver Lake, and Valley Falls, Kansas.