Extend the lifespan of your roof with our roof cleaning services.
When you think about boosting your home's curb appeal, roof cleaning may not come to mind at first. However, the cracks and crevices in your roof can collect moisture and dirt, which can lead to algae and mold growth. Over time, this unsightly buildup can reduce the lifespan of your roof and increase your energy expenses.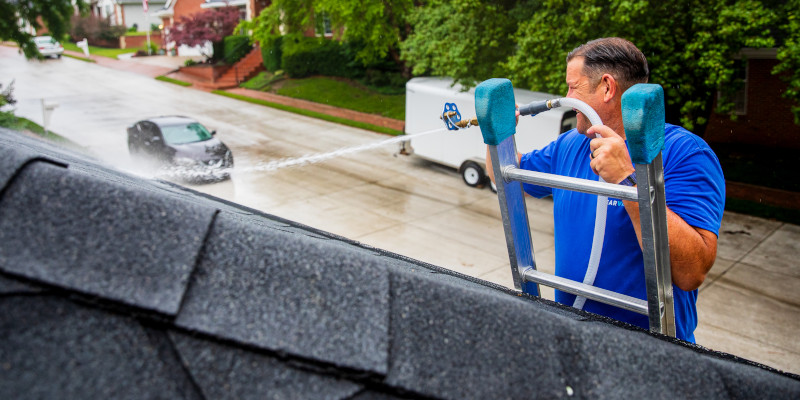 Here are some of the key reasons why our team at ClearView Window Cleaning and SoftWash recommends scheduling regular roof cleaning services:
Improve your home's appearance. You may not notice the grime accumulating on your roof, since it happens over a long period of time, but your neighbors might. Furthermore, if you're planning to sell your home, you should do everything you can to make a good first impression on potential buyers.
Help your roof last longer. When contaminants settle onto your roof and build up over time, they can potentially break or damage your shingles. We can help protect your roof and your home's interior by regularly cleaning your roof to get rid of excess debris.
Save money on energy bills. A damaged roof won't insulate your home as well as a roof in great condition, so you might have to pay more to keep your home at a comfortable temperature. Maintaining your roof will help your air conditioning system last longer too, since it won't have to work as hard to cool your house.
To schedule roof cleaning services in the Lawrence, Kansas area, please reach out to our team today for more information!
---
At ClearView Window Cleaning and SoftWash, we offer roof cleaning services in Topeka, Lawrence, Wamego, Saint Marys, Auburn, Carbondale, Holton, Lyndon, Osage City, Oskaloosa, Overbrook, Rossville, Silver Lake, and Valley Falls, Kansas.