Get a safer, more effective clean for your deck with deck cleaning services.
Cleaning your own deck may seem like a desirable alternative to paying for a professional to come do it for you, but it may not always be the safest or most effective option for your deck. If you want a safer, more effective clean for your deck, we highly recommend deck cleaning services from us at ClearView Window Cleaning and SoftWash. We are happy to serve anyone in the Lawrence, Kansas area.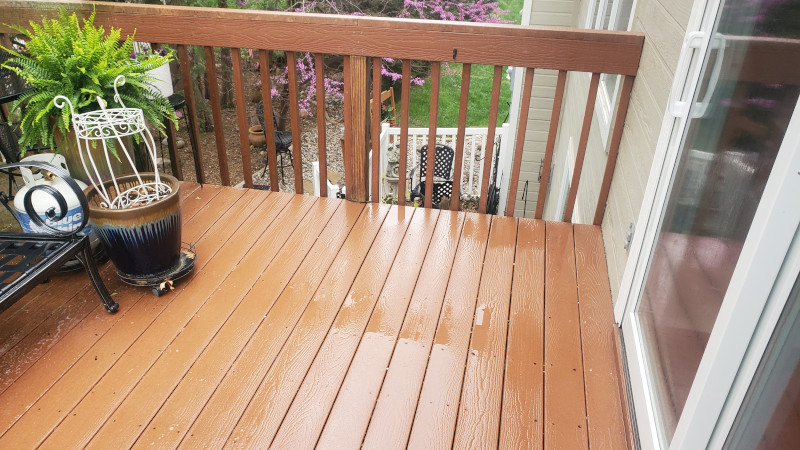 Decks are often made of more delicate or colored materials that don't hold up well to the highly pressurized water of pressure washing. That's why we use soft washing for our deck cleaning services instead. Soft washing utilizes gentler water pressure and biodegradable cleaning solutions that are perfectly safe for your family and pets. This allows us to remove any dirt, grime, stains, mold, mildew, webs, nests, or any other contaminants that may make your deck seem worn down and uninviting effectively and safely. It also creates a lasting clean that can protect your deck from future damage.
We have over 35 years of experience and know all the best ways to clean your deck properly and safely. We always work hard to complete our deck cleaning services as efficiently and effectively as possible. That way, you can be enjoying your newly pristine deck for your next family barbecue in no time. You can also trust that we will keep your deck completely safe from damage during our services, so you will never have to worry about receiving anything less than the best for your deck.
Get a safer, more effective clean for your deck with our deck cleaning services. Give us a call to schedule our services today.
---
At ClearView Window Cleaning and SoftWash, we offer deck cleaning services in Topeka, Lawrence, Wamego, Saint Marys, Auburn, Carbondale, Holton, Lyndon, Osage City, Oskaloosa, Overbrook, Rossville, Silver Lake, and Valley Falls, Kansas.
Similar Services We Offer: