Rely on our professional team for your commercial roof cleaning needs.
It can be easy to forget about the state of your roof until a noticeable issue comes up. Many business owners may not think they need to clean their roofs at all! However, regularly cleaning your building's roof is a simple way to extend the lifespan of your roof and catch potential problems before they have the chance to get worse and cause more extensive damage.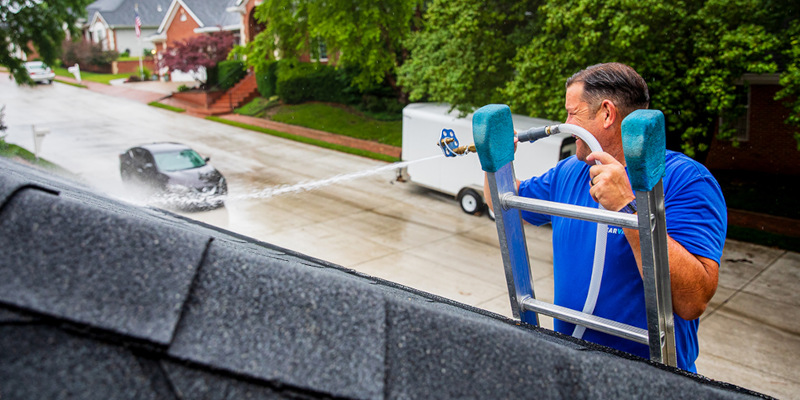 Over time, all roofs collect debris, dirt, and other unpleasant pathogens that can slowly accumulate beneath shingles or roof tiles. If this buildup isn't cleaned out regularly, it can potentially break shingles or cause tiles to fall out of place. Scheduling commercial roof cleaning is one easy thing you can do in order to prevent debris from building up beneath your roof tiles.
For over 35 years, our team at ClearView Window Cleaning and SoftWash has been proud to offer a wide range of exterior cleaning services for the communities in and near Lawrence, Kansas. You can rely on our highly skilled specialists to perform your commercial roof cleaning project safely and efficiently. We offer eco-friendly soft washing solutions that can gently remove buildup and debris from your roof without damaging your building.
Some business owners might try to complete their commercial roof cleaning tasks on their own in order to save some money, but we would strongly advise against this. Climbing onto your roof on your own can be a major risk, and it can be difficult to find the right cleaning solution to effectively remove stubborn stains from your roof without damaging the roofing materials. By relying on professionals, you can stay safely on the ground while our trained specialists efficiently clean your roof using carefully selected cleaners and safe OSHA approved processes.
Next time you need commercial roof cleaning services, reach out to our team!
---
At ClearView Window Cleaning and SoftWash, we offer commercial roof cleaning services in Topeka, Lawrence, Wamego, Saint Marys, Auburn, Carbondale, Holton, Lyndon, Osage City, Oskaloosa, Overbrook, Rossville, Silver Lake, and Valley Falls, Kansas.