We provide thorough exterior office cleaning services to make your building look like new.
When you're a business owner, you know that appearances matter. First impressions can make a big difference to your customers or potential clients, so it's always wise to keep your office interior clean, organized, and welcoming.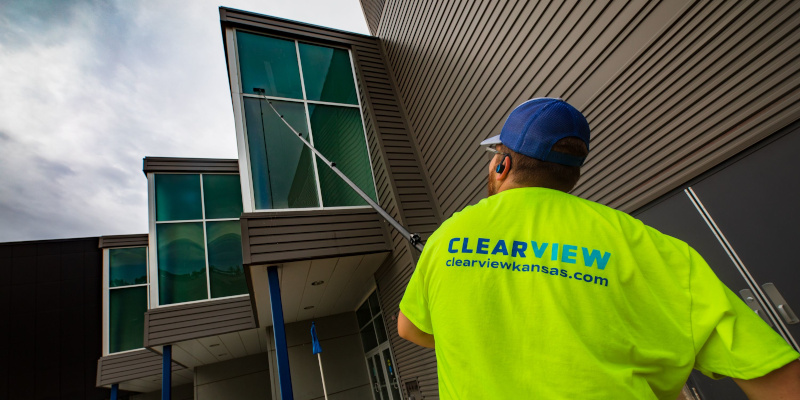 However, first impressions begin with the exterior of your business; not the inside. If your building looks dirty or worn out, this can send the wrong message to the people you're trying to work with. This is why our team at ClearView Window Cleaning and SoftWash offers exterior office cleaning services throughout the Lawrence, Kansas area.
Since 1988, our skilled technicians have been providing a wide range of exterior office cleaning solutions for the local community. We offer soft washing services to effectively clean your building's gutters, roof, siding, windows, and more. Soft washing is a gentler cleaning method that gets rid of dirt and other contaminants without damaging the finish on more delicate surfaces. If you're looking for an eco-friendly exterior office cleaning option, our soft washing services are an excellent choice.
If your office parking lot or walkways are in need of a little extra cleaning power, we also offer pressure washing services. In most cases, our soft washing solutions can tackle difficult stains, but pressure washing may be needed for very tough surfaces, such as concrete sidewalks. In any case, our cleaning specialists will be able to customize the perfect cleaning solution to meet your exact needs.
If you want to freshen up your building's exterior, we encourage you to reach out to our team today to schedule an appointment!
---
At ClearView Window Cleaning and SoftWash, we offer exterior office cleaning services in Topeka, Lawrence, Wamego, Saint Marys, Auburn, Carbondale, Holton, Lyndon, Osage City, Oskaloosa, Overbrook, Rossville, Silver Lake, and Valley Falls, Kansas.
Similar Services We Offer: